Nowadays, we are storing everything on the Cloud: photos, videos, audio files, documents.
Maybe you don't know it, but you are probably already using a cloud service with your smartphone (ex: Apple iCloud, Google Photos).
Those cloud services have generally limited 10Gb space for FREE, but if you have a lot of data, you will need to subscribe to a monthly plan.
With past smartphones, I have personally used iCloud or Google Photos to store my photos until I discover Pcloud!
Here my Pcloud review, I will tell you why you should consider using this cloud storage instead of iCloud, Google Photos or Dropbox.
What is Pcloud?
First, of all what is and who owns Pcloud?
Tunio Zafer (CEO) founded Pcloud in 2013, a Switzerland company.
Secure cloud storage and data transfer are the main services of this company.
They aim to provide an easy-to-use cloud storage solution for individuals and businesses.
Pcloud is used by people working in Nike, Twitter, Coca-cola, Instagram, Uber…
They have more than 8 million users all over the world.
Pcloud Review: Why did I choose Pcloud?
I'm going to tell you how exactly I managed to use Pcloud.
My first smartphone was an iPhone 5s, I switched for Android for a few years with Huawei and Samsung devices, then came back with Apple's and his new iPhone.
Over the years, I took a lot of photos on my smartphone, and every time I had to upload them on my computer when my phone was running out of space, or when I switched smartphones.
It's incredible the tons of photos and videos we can save on our phones in one year…
And realize that it can be time-consuming and very painful to sort all the photos, videos and transfer them to another disk.
I guess I'm not the only one who had this problem, and maybe you have already faced that kind of situation.
So, I started to search for a solution on the internet.
Sure I found some recommendations about upgrade my iCloud storage, I have checked on Apple's website and they charge you 0.99$ each month for 50Gb.
On the other side, Google Drive charges 1.99$ for 100Gb per month.
Then landed on Shoebox and Sync.com but they also cost you monthly fees...
Well, I didn't want to pay recurrent fees each month!
Finally, I found the holy grail: Pcloud!
Pcloud: Pro and Cons
I will be honest with you there are no real cons of using Pcloud.
Here my Pcloud review:
Pros
Pcloud pricing: how much does Pcloud cost?
Even if Pcloud has a free plan of 10Gb, the Pcloud lifetime plan is the main reason why I choose this service.
You pay once and you don't have to bother anymore, you have your cloud storage for your whole life.
Pcloud offers:
500 Gb lifetime plan for only 175$
1 Tb lifetime plan for only 350$
At first glance, this price sounds expensive so let's do the maths:
If we suggest that a human can live for 80 years.
So someone who subscribes to Pcloud at his 30 years old will have 50 years of lifespan.
| | | | |
| --- | --- | --- | --- |
| | Monthly price for 500Gb | Price per year | Price for 50 years |
| Pcloud | | | 175$ |
| Apple iCloud | 9,9$ (0.99$ x 10) | 118,8$ | 5940$ |
| Google Drive | 9,95$ (1.99$ x 5) | 119,4$ | 5970$ |
When you see those numbers, there's no doubt anymore that Pcloud is very cheap.
For 50 years, you will only pay 175$ while using iCloud or Google Drive you will pay more than 5900$!
You are saving more than 5700$!
And, if you subscribe via my link you will get a discount:
Pcloud app is multi-platform and easy to use
You can synchronize your files with all your devices.
Pcloud is compatible with Windows, macOS, Linux, iOS (iPhone), Android.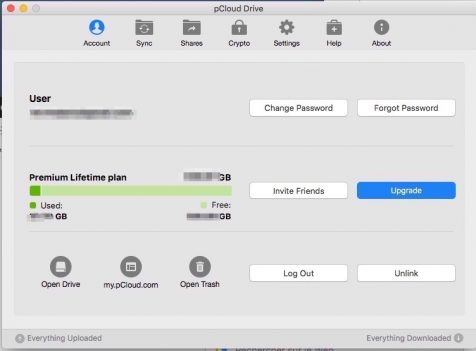 And has some plugins with browsers and Adobe Lightroom.
It means that you can install it on your computer, phone, and even log in to your account via a browser
As an ex-user of Android, I know that it was impossible to get my photos took on my Samsung and get them uploaded on iCloud.
But with Pcloud, you can install the app on any smartphone and have your photos sync automatically to your PC or Mac without any problems.
Pcloud is great because you are not dependent on Apple or Google eco-system anymore.
Even if you change your phone, or your computer is broken, your data will still retrievable from Pcloud.
The good thing with the Pcloud app is the smart way to synchronize files between the cloud and your devices.
Unless you don't use the Pcloud sync folder, it won't copy all the files on the cloud on your computer hard disk (contrary to Dropbox).
It will only cache some files (you can set up the cache size) on your computer when you are accessing them on the cloud.
It's Cloud Storage that doesn't use hard drive space too much.
Plus, the app gives you also the possibility to free up your smartphone space once you have uploaded your files on Pcloud.

It's a very helpful function especially for people who take a lot of High-resolution photos, heavy video in HD or 4K or simply don't have big storage capacity.
The security and reliability: Pcloud crypto
You might also want to know how secure and reliable is Pcloud storage.
The company has certifications in Information Security Management Systems (ISO 27001:2013) and Quality Management Systems (ISO 9001:2015).
Pcloud using TLS/SSL channel protection with 256-bit AES encryption and if you use Pcloud Crypto you can have Military-grade encryption, it's very secure.
Data centers are certified for SSAE 16 SOC 2, Type II that ensures the highest level of security.
Your files are back up on 3 different servers.
Deleted files and folders are placed in a Trash folder who can be recovered within 30 days.
Cons
The only con is probably that Pcloud crypto is an extra feature and you have to pay for it (125$ for a lifetime) if you want an unbreakable security.
But by default, you will already have TLS/SSL transport layer when you transfer files, 256-bit AES encrypted files and Two-factor authentication who are way very enough for most normal people.
In conclusion, you can naturally guess that Pcloud is an excellent product!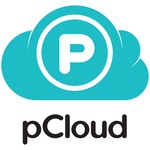 I recommend you to give it a try.
It can make you save some a bunch of money, especially if you are using other cloud storage services like iCloud, Dropbox, Google Drive…
Note that the company also has other services like Pcloud Transfer a file transfer service like Wetransfer who allows you to share 5Gb sized files for FREE!