I'm using Vultr as my main web hosting now.
But in the past, I have used many web hosting services for my web apps and client projects.
From the basic shared web hosting service (ex: Greengeeks, Godaddy…), to VPS (like Digital Ocean, Ramnode, Conoha) and large scaling Cloud services for enterprises (ex: Aws, Google cloud…).
For my websites, I have begun to use Digital Ocean, then I moved to Conoha (a Japanese service), then decided to change for Vultr.
But before sharing you my review on Vultr, you might want to know what is exactly Vultr.
What is Vultr
Vultr or more precisely Vultr Holdings Corporation is a company established in 2014 by David Aninowsky.
Mainly focused on Cloud services and offers reliable servers and hosting solutions for developers and start-up companies.
They have worked with some companies like Choopa.com and GameServers.com.
Their position on the market is still minor comparing to other Cloud services like Digital Ocean or Linode, but step by step gaining some popularity.
Why choose Vultr VPS?
Even if a Virtual Private Server (VPS) is more suitable for developers and technical people, VPS tends more and more to be a legit solution for individuals.
Indeed what attracts me the most in Vultr is the Quality-Price-Ratio.
You can get a good server at a low price.
But let's see in detail the pros and cons.
I will talk about general benefits concerning VPS but give you my thoughts and reasons who made me choose Vultr.
Pros
Low cost
You can start with a cheap private server for only 2.5$ – 5$ per month, it's the same or even cheaper than shared web hosting servers!
If you don't know the difference between a VPS and a shared web hosting, I strongly recommend you to check my post: Web hosting Shared, Dedicated, Virtual Private Server: Which to choose?
So, for 5 bucks what you will have?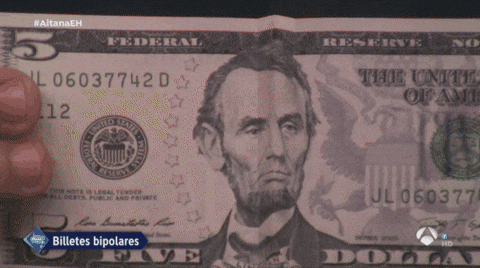 25 GB SSD of disk space
1 CPU clocked at 2,3 GHz
1 GB (1024MB) of RAM
Bandwith of 1 TB
For your information, it's nearly impossible to find that kind of specifications (100% allocated to you and not shared) with a normal shared web hosting service like Godaddy, Siteground or else…
If you are running only 1 website, the 5$ plan will be fair enough

But I recommend you to take a 10$ plan or more if you have many websites.
I use the 10$ plan for 3-4 websites.
Powerful CPU
Basic Compute VPS plans over 10$ are all using the Intel Skylake CPU (7th generation CPU), according to Vultr, it would make your server 50% faster.
But the more interesting are High-Frequency Compute plans.
Those plans are including a powerful CPU with more than 3GHz just for a few extra bucks (+1-2$).
This powerful CPU is one of the reasons that I have decided to choose Vultr.
Access to files faster with SSD and NVMe
Generally, all VPS providers (including Vultr) are already equipped with SSD (Solid-State Drive).
But a lot of shared web hosting providers still using old HDD (Hard Disk Drive).
Technically, an SSD is 5 to 20 times faster than an HDD.
It will access your website's pages and data more rapidly.
You'll probably already visited a website that takes a lot of time to load all the images.
SDD can improve the fetch time of your images stored on your webserver.
With their new High-Frequency Compute plans, Vultr also offers storage with the NVMe interface.
It has been measured to be 2 times faster than previous SSD's interfaces.
Have the total control and flexibility: Install what you want
A VPS is like a single machine, but running virtually.
It means that you can install everything you want from scratch.
For example pick the Operating System (ex: Debian, Centos, Ubuntu…) of your choice, choose the version of PHP (for information PHP version 7 gives better performance with WordPress), run programs written in different languages (Perl, Python, Ruby), use Maria Db as database instead of MySQL, run more specific apps like a realtime chat service or a game server (ex: Minecraft)….
You'll understand that you can also run many websites on the same server and for the same price (I'm running 3-4 websites on one server).
The flexibility of a VPS allows you to scale easily by upgrading your machine online (ex: RAM, Disk Space…).
An interface easy to use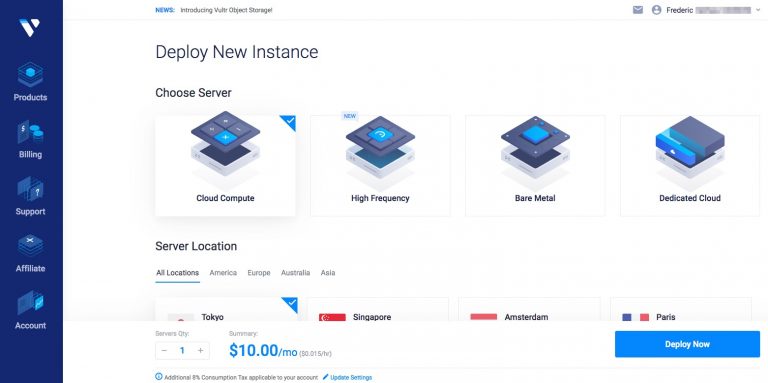 The interface of Vultr is very user-friendly and intuitive. To create a new server you just have to select "Cloud Compute", the server location,  the server type (OS), the price plan and click on "Deploy Now".
When the instance is ready, the credentials to connect to your server will appear in your "Server information overview" :).
A lot of data centers
As it's becoming more and more important to put your server at the proximity of your visitors for better geolocation and ranking purpose.
One of the main reason who made me subscribe to Vultr is the numerous data centers all over the world.
Vultr allows you to deploy your server in 16 different locations (where Digital Ocean and Linode offer only 8).
Tokyo (Japan), Singapore, Amsterdam (Netherlands), Paris (France), Frankfurt (Germany), London (United Kingdom), Atlanta (United States), New York (United States), Chicago (United States), Dallas (United States), Los Angeles (United States), Miami (United States), Seattle (United States), Silicon Valley (United States), Toronto (Canada).
Snapshots are free
Another cool feature is the fact that snapshots are free!

The snapshot feature allows you to take a "backup" as an image from your running instance.
It's really important to periodically take snapshots to be able to recover your server if something happens.
Digital Ocean charge you 0.05$, Amazon Light sail 1.30$, and Linode charge you hourly for each snapshot.
Great performances
Vultr VPS and show overall great performances concerning Disk speed and Network.
You can find some benchmark tests on the internet to give you an idea of the server's performance.
John Sherman's blog shows that Vultr is crushing other competitors since this last 3 months.
Here a sight of his report on September 2019 comparing DigitalOcean, Lightsail, Linode, Upcloud 5$ plans :
Check his full report here.
More old reports by Vpsbenchmarks.com in 2018 :
For the $5 plan :
For the $10 plan :
To compare more VPS, you can go on their website.
Cons
You have to set up by yourself
As any Dedicated machine or Virtual Private Server, you will have to install it all by yourself.
It looks difficult for non-technical people, but you can find some easy tutorials on the internet.
But don't be afraid, it's not mission impossible, you just have to copy and paste some Linux commands and it should be fine.
Remember that once you have installed it, you are good for a bunch of years!
Tax is not included
A thing that I didn't really like with Vultr is the monthly price does not including Value-added tax.
When I checked my bill, I was surprised to pay $10.8 each month.
The VAT is calculated depending on your country.
As I'm living in Japan I have 8% in VAT.
In the USA it should vary between 0-10%.
For more information, check their FAQ about VAT.
https://www.vultr.com/resources/faq/#vat
How do I get a VPS on Vultr?
To get your VPS on Vultr, go to their website (vultr.com).
Then create an Account, then subscribe to their "Cloud Compute" or "High Frequency" product.
You can get $50 credit by subscribing via my link.
It's perfect to test the service for a few months with that give away credit.
Conclusion
I have used Vultr since this early 2019 and I'm very satisfied with it.
I had zero downtime and the server ran 9 months without any interruptions.
Also, my server (10$ plan) using very low resources on CPU (0.7% – 10%) and Memory (511MB) for 4 websites running on it.
Even if the tax is not included in the price, and their community is smaller than Digital Ocean, It's a quite reliable service.
I warmly recommend you to get your own VPS on Vultr also.